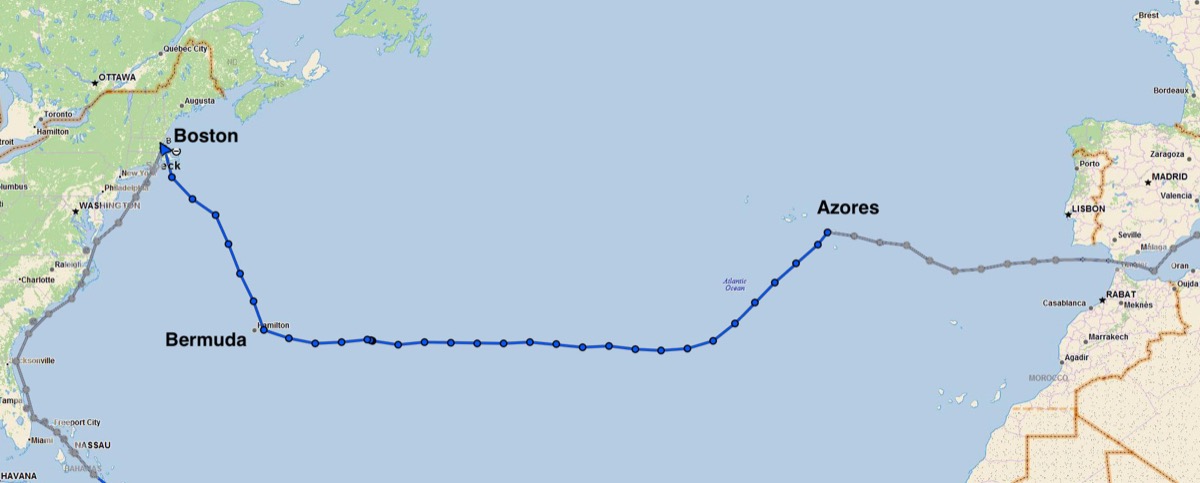 While we waited patiently for nine days in the Azores for our new engine coolant pump to arrive, we took advantage of the marina's provisioning services and enjoyed some pizza and local fresh produce. It was a comfort to be able wake up to fresh Portuguese coffee, toast, and eggs while we were there.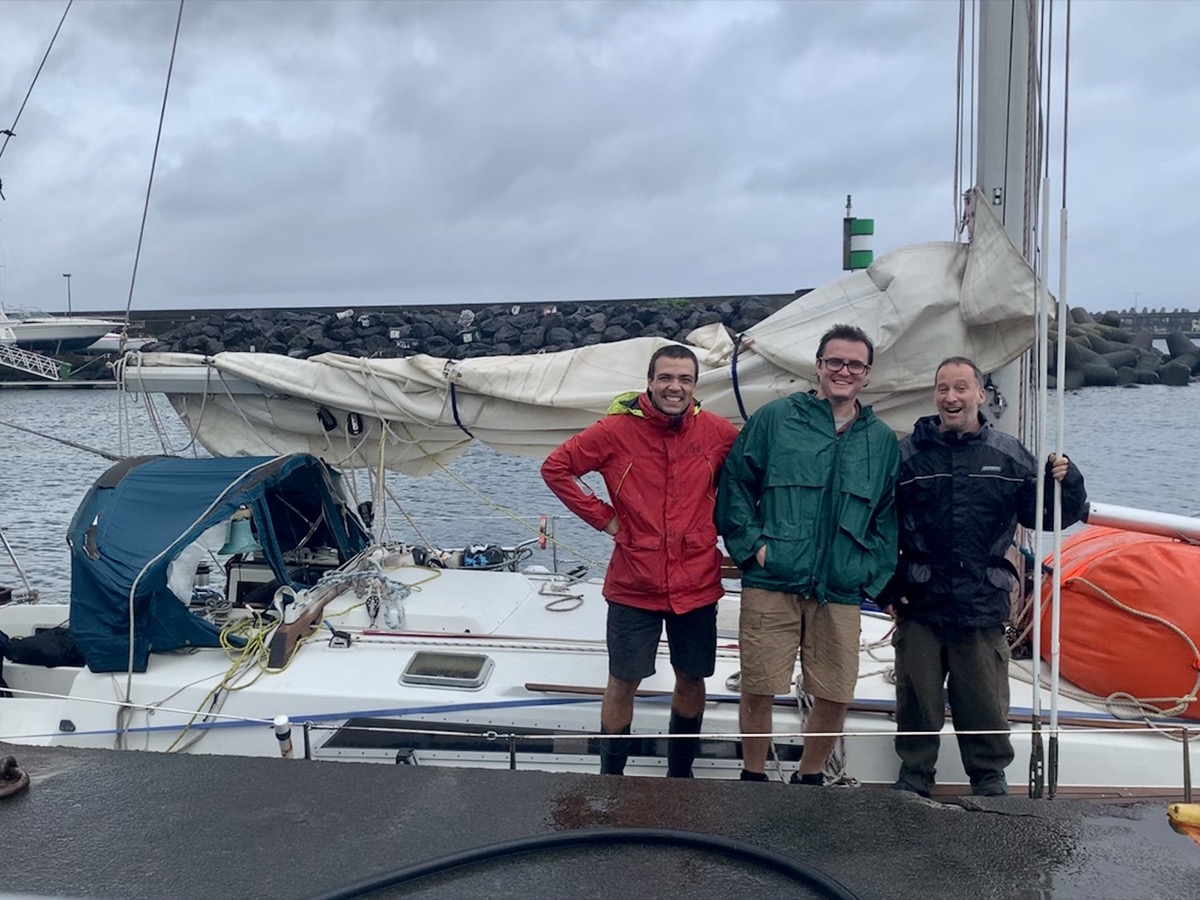 As the sun set on the ninth day, we set off across the Atlantic toward Bermuda where we would wait for a weather window to cross the Gulf Stream back to the USA.
Within hours of leaving Ponta Delgada, the skies darkened the ocean black as things kicked up into a near gale that would last for three days and make for some rather uncomfortable sailing.
The weather settled back and we enjoyed a fair crossing save but a couple doldrums and a halyard snapping.
Byron once again braved the mast underway as we motored downwind for a quick repair. Once we made it to the Bermuda parallel, we pretty much enjoyed following winds and seas all the way to Bermuda.
A stitch in time saves nine. With the sails down, Josh took the opportunity to put his sewing skills to good use and mend up a small tear that was just waiting to become a major issue if left unattended.
As we approached Bermuda we began to strategize our Gulf Stream crossing and assess when we might be able to do this. The Gulf Stream at some points can flow up to 4.5 knots. With an opposing wind, the sea can get really nasty making a crossing not only dangerous but also near impossible. As we approached about one mile offshore Bermuda, to our delight the weather reported a settled sea with an outstanding 5 day forecast. Not wanting to waste such incredible fortune we turned north, away from Bermuda onto our final stretch toward home.
With a southerly wind forecasted, we set our heading to the opening of the Cape Cod Canal. We would return through the same gateway we passed through about a year and a half before. We found a simple joy in seeing all of the old colonial style houses that characterize New England as we past by them in the canal.
Once again a photo credit to our friend Matt Bennett's parents, Doug and Sandy for taking this picture from the shore as we reentered United States.
And yet another big thank you to Doug and Sandy for racing up the canal to take a video of us as we swung in for a close pass to shore while the current was whisking us along at 9 knots. Thank you for such a warm reception!
Speck and crew passed through the other side of the canal just before sunset and put in for a gentle overnight cruise up to Boston harbor.
In the wee hours of the morning at about 3am, we saw the glow of a mast-lit sail approaching us. It was our friends from our homeport marina! Matt and Issac aboard Easterly sailed to the outer harbor islands in the middle of the night to great us on our way in.
We wanted to pull into the dock where friends and family would be waiting at sunrise. Having made such good time, we needed to slow down. This provided a great opportunity to raft up with Easterly and enjoy some celebratory libations as we waited for first light.
As sunrise approached, Captain Joel joined the welcoming committee. We could not have asked for a better E-Dock reunion.
And it was at 8am on Wednesday, on the 24th day of June of 2020, that Speck and her crew finally pulled back into the fuel dock at the East Boston Harbor Shipyard and Marina bringing an official end to our 18 month circumnavigation  (with the last 72 days quarantined to the boat -since Egypt!). We were greeted by Byron and Josh's parents as well as their Aunt and Uncle, Carol and Bob, and Josh's girlfriend, Kaitlyn. Not everyone that wanted to be there could, but to those that were not there in body were certainly there in spirit. A special thanks goes out to all of those who supported us along the way and and to those that made this last day of our voyage so special in our hearts.
Here we have a commemorative waterproof banner being held by Uncle Bob. Thousands of miles and many more lasting memories. Thank you Bob and Carol! These came out so well!
A big thank you to Dan's mom for knitting us these amazing sweaters!
It is a sweet and seemly thing to once again gaze upon the beautiful skyline of ones homeland after such a journey, taking in new depths and meaning of your past surroundings, and settling back in to a new corner of your mind amidst a wealth of new truths and discoveries.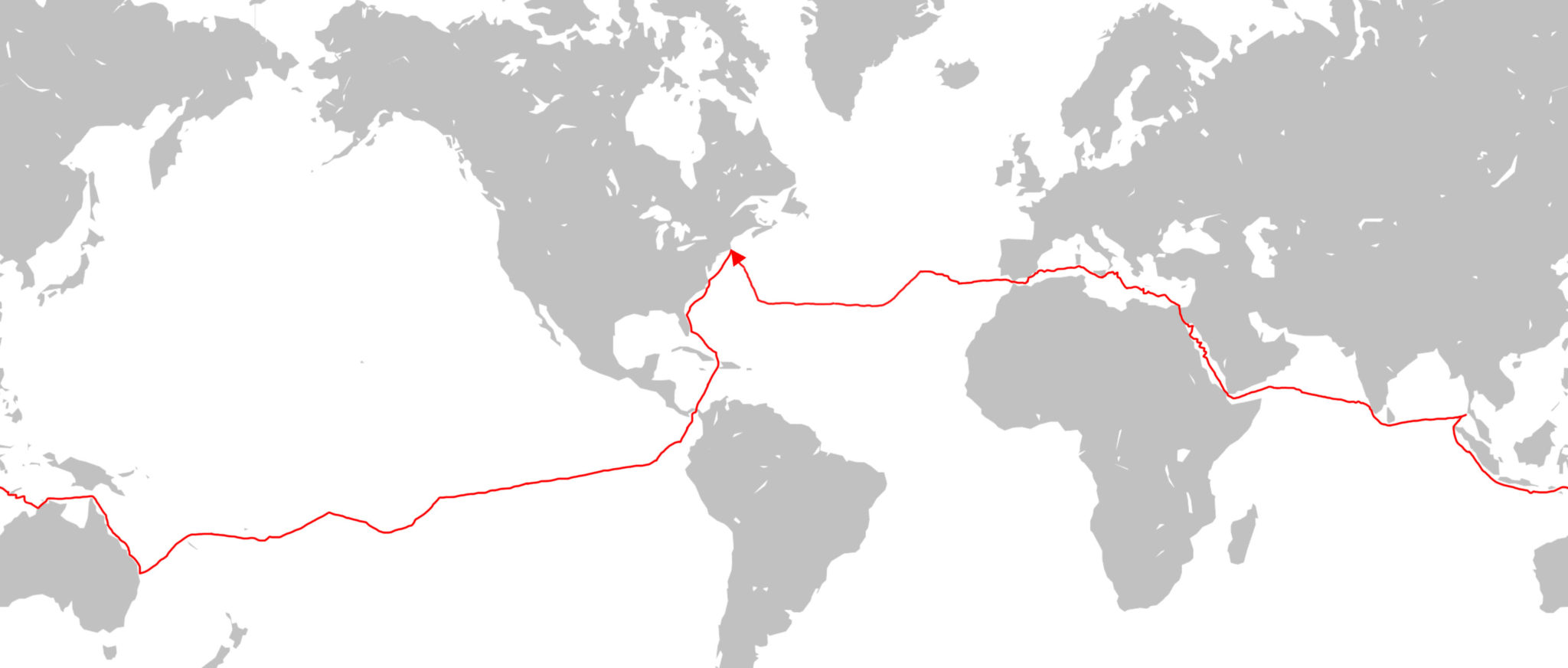 If you've been following along over the last two years, Thank you! We'd love to hear from you 🙂 - svspeck256 [at] gmail.com
After a week of cleaning and preparation, Speck is listed for sale as Byron and Dan each plan their next adventures!