Dodging multiple gales and bunkering down in Spain we finally have arrived in Gibraltar! It was really looking like we weren't going to make it here by May 15th but a lucky spell of weather put just enough wind at our backs and with just enough diesel we puttered into Gibraltar harbor on the morning of the 15th to our biggest refuel ever and to gather some fresh provisions and BEER! As we sailed close to the Moroccan coast, we slowed down considerably as we hit the east setting current that flows through the strait of Gibraltar from the Atlantic into the Mediterranean. It was then that our prospects grew dim. Luckily however, we magically found an unexplained counter current that carried us into motoring range.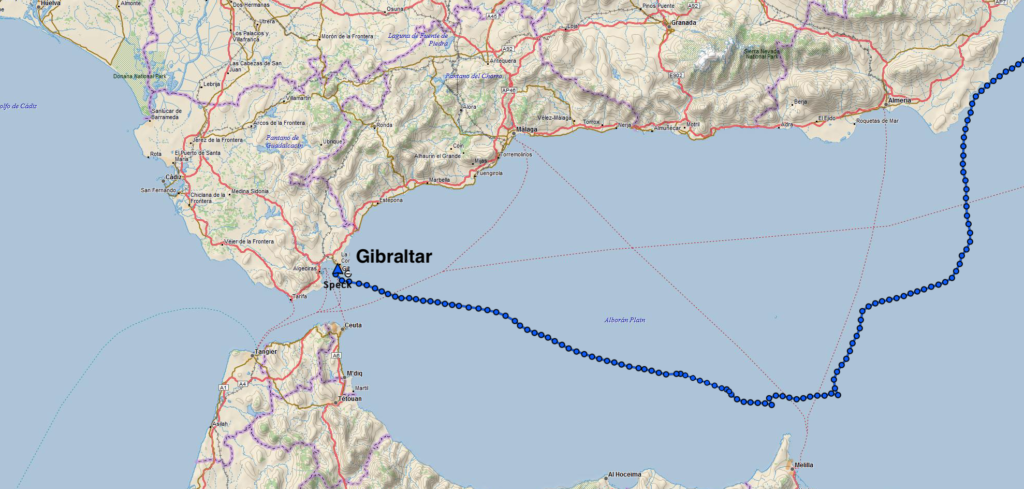 As we stop in Gibraltar for food, fuel, and pizza-delivery to the dock (can't believe that worked – thank you fuel dock worker Michael who allowed this!), we'd like to reflect and thank our contributors by naming some items.
The Adam Johnson Lightning Cables
Thrifty yet functional as always; aboard SV Speck we use iPads and iPhones loaded with the latest Navionics software for all of our navigation in lieu of buying an expensive chart plotter. This means that a very real disaster that we could face would be all of our lightning cables not working. Thank you Adam, with your monthly contributions, we have had a steady supply of fresh lightning cables wherever we went.
The Tyler Mear Strainer
We cannot understate the amount of pasta consumed aboard SV Speck. So much so that we have gone through no less than three strainers. We just couldn't get it right. One corroded and we had two collapsable ones that had the bottom fall out. Finally we went for a rigid plastic one and just found a place to put it. It hasn't failed us yet. Thank you Tyler for helping that good ol' pasta straining through our digestive systems.
The Michael Avery Quick Fix Engineering Supply
When something breaks at sea, you must fix it. And you must fix it with whatever you have on board, even if its not the perfect match for the repair. To that end we have some VIPs in the realm of general quick fix parts. Hose clamps, paracord, nuts, U-bolts, duct tape! Thank you Michael for helping us stay stocked with this essential hardware that has at times gone as far as saving our mast and the ship itself.
The Susan Maier Emergency Whistles
Imagine being up on deck by yourself in the open sea. Its a nice calm day, gentle breeze, and the sun warms your face. Then you slip on a patch of dew and fall overboard and as you resurface above the water you watch the boat (with its wonderfully functioning autopilot) gently slip away as you are left bobbing in the middle of the ocean. This is a very real scenario and one that has us strapping in during bad weather. If one does fall overboard, your ability to survive is based one how much noise you can make. These whistles provide just that. We did a test run to familiarize ourselves with the noise and boy are they loud! We now have ten whistles ready to wear. Thank you Susan for helping the crew stay safe in turbulent weather.
The Chrissy Knowles Spinnaker Pole Sliders
We have a pole that attaches to our mast that holds our sail out during downwind sailing. A very essential tool in our sailing arsenal. The pole attaches to a metal fitting that slides up and down along the mast. It is supposed to have a very hard plastic bushing that prevents metal to metal friction. Our boat did not come with this so eventually the metal fitting broke and we had to have it welded in Fiji. After getting the proper hard plastic bushings, this is no longer a concern that weighs on our minds. Thank you Chrissy for helping to take a load off our spinnaker slider and our troubled minds.
The Ohmar and Abby Coughlin Spinacker Blocks
We made it half way around the world before learning how to fly a spinnaker. But now that we have it figured out we just can't get enough of it. To properly fly the spinnaker, we had to expand our spare pulley inventory so that we can run the extra lines required to hold out the sail and to make trim. Thank you Ohmar and Abby helping us fly our largest sail, getting us through the trickiest of doldrums.
The Jean-Philippe Pillone Companionway
We have some very high traffic wood aboard SV Speck. That wood is constantly exposed to UV rays and a harsh saltwater environment. To protect these area when time allows, we must sand and revarnish. Not only does it protect the wood but it also adds a bit of warmth to our entryway. Thank you JP for for helping to protect the integrity and beauty of our wonderful boat. You sir, are a gentleman and scholar.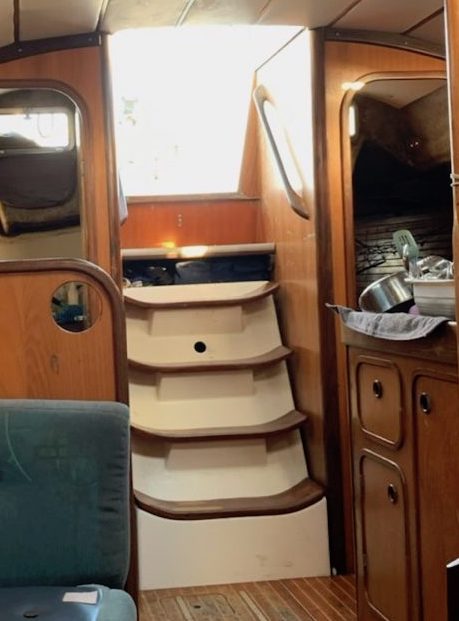 The Chris Pinheiro Solar Arch
Our solar panels give us power independence on our boat and we are quite proud of it. For the longest time we had these panels hanging on our lifelines secured with spare aluminum tubing and paracord. Sometimes when we heeled over too hard they would dunk in the water. They also sometimes made docking tricky. Byron, fed up with this situation, hatched a new plan in Thailand. He built an entire solar arch that lifts the panels up over the stern of the boat. They are now: no longer in the way, catch more sunlight, provide shade and shelter and even catch rainwater. Thank you Chris for helping us with one of our most visible and functional upgrades to our electronics system this year.
The David Tourtelotte Ships Papers Dry Bag
Every time we enter a new country we must stuff all of our super important documents into a bag, get into our VERY leaky dinghy, and go ashore for check in procedures. Protecting those documents along with our electronics is essential so we picked up a good quality one in Thailand when we sailed to the Phi Phi islands. Thank you Dave for helping us protect vital items that we must schlep on shore.
The Paul Giudice Jibe Preventers
Running downwind in a sailboat carries with it the danger of an accidental jibe. The wind momentarily switches sides of the boat and the mainsail and boom are violently pulled across the cockpit clobbering anyone in its way. To safeguard against this we run prevention lines that can pull back on the boom. Previously we had been using some questionable lines to achieve this so it was comforting to replace them with newer synthetic nylon lines. Thank you Paul for helping us not get knocked unconscious. Hope to be seeing you soon.
The Missy and Manny Under-decks
Having essentially pulled Speck out of a scrap heap, there were a lot of unfinished and deteriorated parts of the boat. The headliners (ceiling fabrics) were all rotten and had to be removed leaving the exposed raw fiberglass decks. We abandoned our plan to fit in new headliner and just left it raw. This raw fiberglass is an unsightly shade yellow-brown. Replacing it with a high quality white enamel paint made a huge difference. Light dispersion in the galley and chart desk has never been better. Thank you Missy and Manny, we hope to see you when we reach the East Cast of the US.
The Max Pearl Bread Pans and Bread Knife
Dan is the master chef aboard SV Speck and he states, "I was wrong when I boasted that I could do it all with one knife as long as I could keep it sharp enough. I eventually got good at knife sharpening but it is still not enough to effectively cut tomatoes and fresh bread." For that we bought a new knife and what a difference it has made. Bread slices are no longer a pile of mashed bread and tomato slices are no longer stewed tomatoes. Thank you Max for making all of this possible!
The Cris and Steve Medical Supplies
When making ocean crossings that are as long as ours, you must be prepared to fend for yourself. To this end it is essential to maintain a first aid kit ready for anything. This med kit was gifted to us by our great friend and ER nurse Anna Dykhuis before we left Boston. Mortal wounds, breaking bones and sicknesses expelling excrement from both ends. Maintaining the contents of the first aid kit can be an expensive venture. For this, we thank you, Chis and Steve, for helping us maintain a comprehensive life saving med kit.
The Isaac Walrath Spinnaker
When we first started using the spinnaker we were so excited by it that when the winds picked up to 25 knots, we enjoyed some of the most exhilarating sailing of our lives for about 10 minutes just before it blew out a corner of the sail. We took it to a couple sail repair shops in Thailand, and found one that could fix it at a reasonable price. We now place our spinnaker in our essential LIGHT WIND toolkit that helps us get through patches of LIGHT WIND. Thank you so much Issac for your companionship through the first six months of our journey and then helping with this major repair. Hopefully we get a chance to take you out and fly the Spinnaker with you when we get back to Boston.
The Phil Gutowski Jibe Preventer Blocks
After having picked up new lines for our jibe preventers, we decided it wouldn't be worth it unless if we upgraded the blocks as well. Previously we had been running the line through an old snatch block that was really convenient but probably not strong enough to catch the weight of a fully loaded mainsail. The new blocks are easily strong enough and we can even use them to hank down the boom a little bit to flatten down the sail. Thank you Phil for all of your invaluable advice and our brand new jibe preventer blocks.
The Parents Egyptian Treats
It was a long and arduous thirty-five day sail from India to Egypt where we encountered our share of stressful moments. It was nice to be able to pull into the oasis of Port Ghalib and have a stay on a calm dock and enjoy a couple restaurant days where we could relax and cast our worries aside. Thank you so much to our Moms and Dads for always looking after us and always being there with an arm outreach ready to pick us up if we're down.
The Mark and Laurie MacNeil Ships towels
Everything gets wet on a boat and it is a constant struggle to keep everything dry.  We picked up some nice quick drying microfiber cloths that have really helped turn the tide.  Keeping below decks dry helps you stay warm as well as eliminating slippery surfaces.  I am certain we have a great number fewer bruises solely due to these cloths.  Thank you Mark and Laurie for helping us stay dry and a little less bruised.
The Pattie and Barb LPG regulator
Just before leaving Port Ghalib and after buying a new (massive) propane tank, we realized we had no way to connect it. We quickly bolted to the nearest store that might have a regulator and luckily they did. Without this we would have been eating cold beans out of a can all the way across the Mediterranean. Thank you Pattie and Barb for helping to keep a little variety in our diets and hot meals in our bellies.
The Sandy and Doug Bennett Water Filters
Having lived in the US all our lives, we have always taken clean water for granted. Now having been to less fortunate places, it has become a resource we covet. We take as many precautions as we can when filling out tanks. When options are few and the water might not be the highest quality, our filter picks up the slack. These are super high quality filters that filter water at the microbial level, and they are not cheap but they are worth it. We were able to purchase enough of these filters to get us around the world. Thank you Sandy and Doug for helping to ensure we have the safest water wherever we go.
-The other picture here is a picture Doug took of SV Speck as we transited the Cape Cod Canal on a cold December 8th, 2018. Thank you for seeing us off and sticking with us through to the end, Sandy and Doug!
The Greg Deegan Jib Sheets
Try as we might and with as much anti-chafe gear as we lay out, we still end up with torn up jib lines. With as much heavy weather through as many miles that we travel, this is inevitable. So when we got to Thailand we thought it prudent to procure fresh new lines for our jib. Now, when the seas kick up and our sails are under tremendous load, we no longer have to fret about whether or not they are going to snap in twain at any moment. Thank you Greg for our shiny, new, robust jib sheets!
The Matt and Katie Fast Seas Subscription
Point directly at our destination and stay as close to our rhumb line as the wind allows. This has been our approach to navigation for most of the journey. Now with the need to move faster to achieve our mid-June return to the states deadline, we have adopted new methods. On one of our favorite podcasts "The Boat Galley", Nica Waters highlighted a service that her husband Jeremy has been working on called "FastSeas". A weather routing tool made by sailors for sailors. It basically lets us know where the good wind is going to be and helps us plot the best course. It has made a huge difference. Thank you Matt and Katie for making this subscription possible.
The Mike and Teresa David Garmin Inreach Upgrade
Being able to stay in touch, query FastSeas, and receive hellos from strangers has been a big morale and efficiency boost. Thank you to Mike and Teresa for helping us upgrade to the unlimited subscription for these few months. Speaking of which, feel free to load our map and find the "message" button to send us a message! https://share.garmin.com/speck
The Lark Madden Sunglasses
When we get back to the States, we still want to be able to see. As beautiful as we think the open ocean is on a clear day, one thing we noticed is how bright it is. It was recommended to us early on by Byron's uncle Bob and aunt Carol to make sure you always have UV sunglasses to protect your eyesight. Boy were they right and thanks so much to Lark for helping us protect our vision.
The Arjun Gopalratnam Projector Power Switch
Look, let's be real for a moment. A month long crossing on the open ocean sounds like a soul changing experience, and it is. However, there is just simply too much free time to fill. We have a nightly ritual aboard while we are underway that never gets broken. We have dinner then settle down to a show or movie on our ceiling mounted projector in our cabin's salon. Somewhere along the way, the projector would no longer function and I cannot tell you how much of a moral drop that presented. As you might imagine, our mechanical wiz, Byron, figured out it was a bad power switch. He went and bought a new one, wired it in and now the projector is better than ever. Thank you Arjun for helping us stay sane during our travels and saving our beloved projector.
The Sharon Hurley Prop Shaft Zincs
We won't go into the science of galvanic corrosion as fascinating as it may be, but rest assured it is of serious concern to any boater. In an effort to preserve a nearly irreplaceable propeller, we fasten sacrificial zinc anodes to our prop shaft so that our prop doesn't slowly corrode away. Thank you Sharon for helping us preserve a vital part of our boat.
The Saki and Steve Amaro Engine Coolant and Engine Oil
Our Perkins engine has developed an intermittent coolant leak near the coolant pump. A replacement pump is a $200 part we can't get here, so we've been keeping our RPMs down, catching the coolant when it leaks (in case we need to pour it back in), and topping off the coolant. Supplying on extra coolant and engine oil in Gibraltar before our Atlantic crossing gives us peace of mind. Thank you Saki and Steve for helping keep our engine running.
The Marlis Maier Winch Handles
Our main drive system to our boat is our sails which connect to lines that run to winches. You must have winch handles to crank in those lines. It is just not possible to sail effectively without them. After losing one of our winch handles we were down to one handle. If we were to lose this at sea, forget about sailing. It is super important to always have backup winch handles. Thank you Marlis for helping us procure not one, but two extra winch handles in Gibraltar before making our long Atlantic crossing back home.
Thanks to our friend Han, who we met in Port Ghalib, Egypt we were able to expand our water capacity by 200 liters with a rigid water tank that he was disposing of. This has now allowed us to take a heavy duty flexible tank (thanks Bob and Carol!) we were previously using for water and convert it into an additional 160 gallons of diesel storage. This is a massive increase in diesel and storage and will greatly aid in our quick return home. Speck now has a motoring range of 1000 miles for our final crossing. This means we can motor through 1/3 of our Atlantic crossing if we need to! One of the biggest things to slow us down over long crossings is the lack of wind. This should surely take that out of the equation.
and… we're off! follow and message us here:
https://share.garmin.com/speck