Wrapping up our stay in Panama, we began gearing up for our push West across the Pacific Ocean. This would be the crew's longest stint at sea yet. As such, we prepared our boat to be our universe for the next 4-5 weeks. Cut off from all outside contact and supply, we would have to be totally self sufficient.
No stranger to jumping on wild adventures at the last minute, our friend Alex quit his job and made a fine addition to our crew for the Pacific crossing. While aboard he took on multiple responsibilities alongside learning what was required for taking watch shifts. With an additional crew member, we were able to enjoy short three hour watch shifts.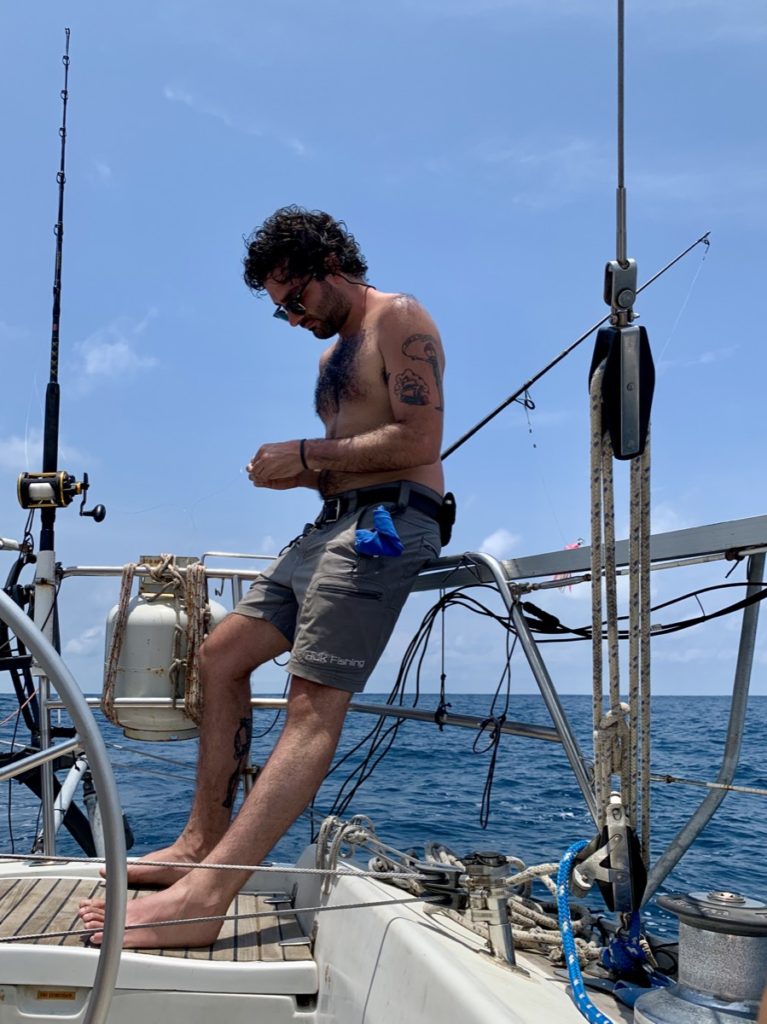 No one onboard had any ocean crossing experience, so we weren't sure how much to provision. We stocked food, water, and supplies that would last a crew of 4 roughly two months at sea.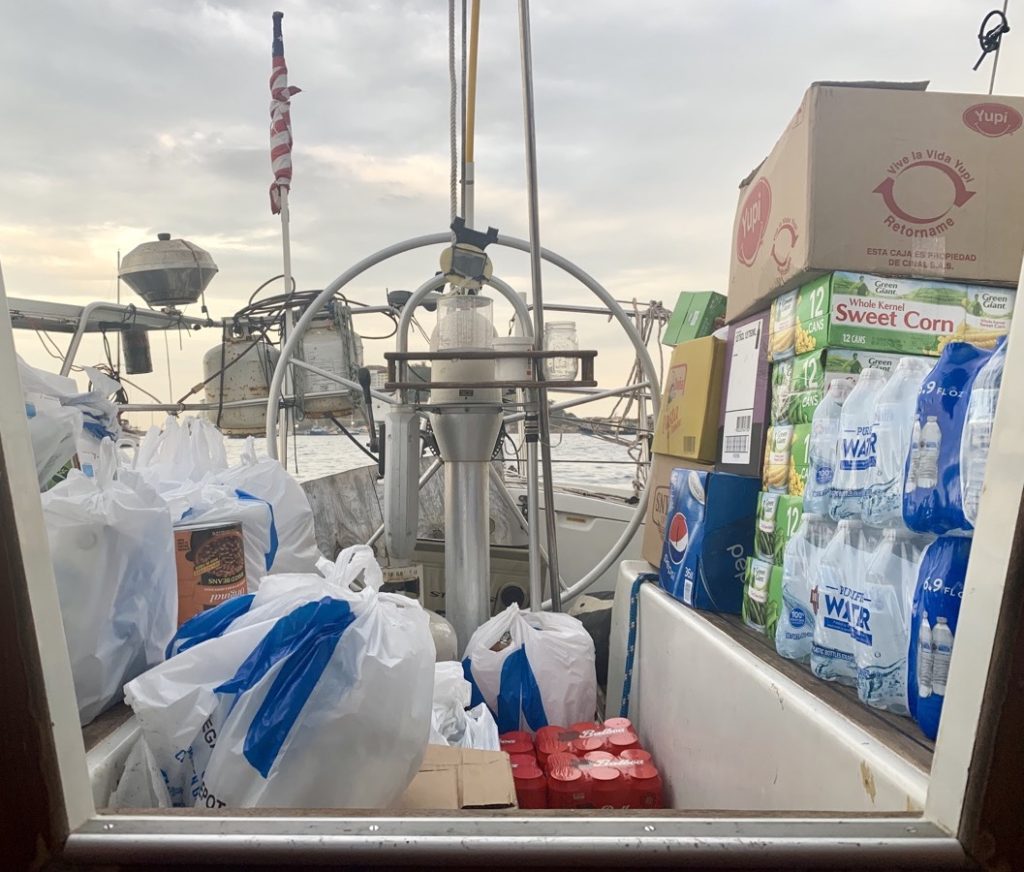 Winds north of the Galapagos were shifty and variable, so we made the most of it by rigging up a swing from the mast.
In sailing tradition, one who has not sailed across the equator is known as a "Pollywog". On April 14th, 2019, we crossed the 0 degree latitude mark and became "Leatherbacks". To mark the occasion, we hove-to and jumped in for a ceremonial swim. After much fun and laughter, we climbed back onto the boat only to find that we had drifted back North across the equator! A quick 15 minute sail South put us back across the equator for a third time. We checked off three equatorial crossings for the cost of one Pacific crossing.
After 10 days zig-zagging South, we finally made it past the Galapagos and turned West. Our longest sail having been six days across the Caribbean, we quickly discovered that we hadn't brought enough variety in music, snacks, and electronic entertainment. We also found that running our refrigerator, autopilot, and running lights left us low on power each day. So, we turned to more low power activities like bread baking, reading, fishing, cribbage, and conversing. We powered our boat at night with laughter and good cheer.
Bernard Moitessier, a favorite author among the crew, wrote about how flying fish would fly onto his deck and right into his frying pan. We quickly adopted this method. A morning walk around deck would yield 10 bite-sized flying fish.
After 28 days at sea, the mountains of French Polynesia were a most welcome sight.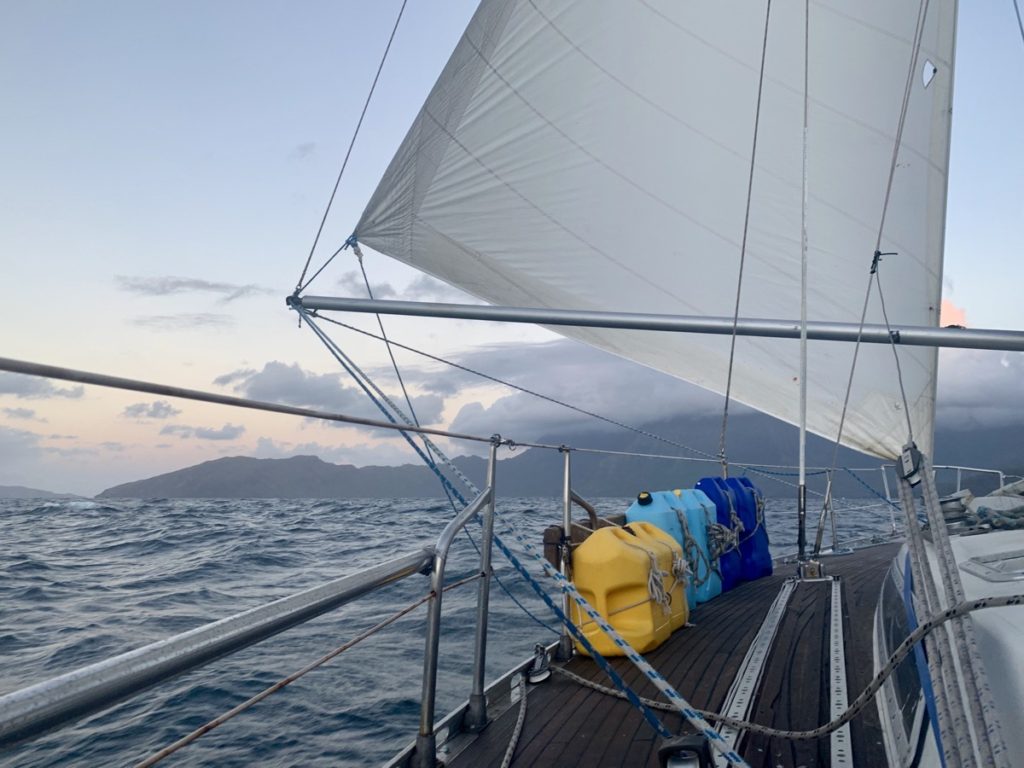 As we hiked and explored the Marquesas islands we quickly discovered that after weeks at sea, all of our endurance, calluses, and general foot toughness were gone.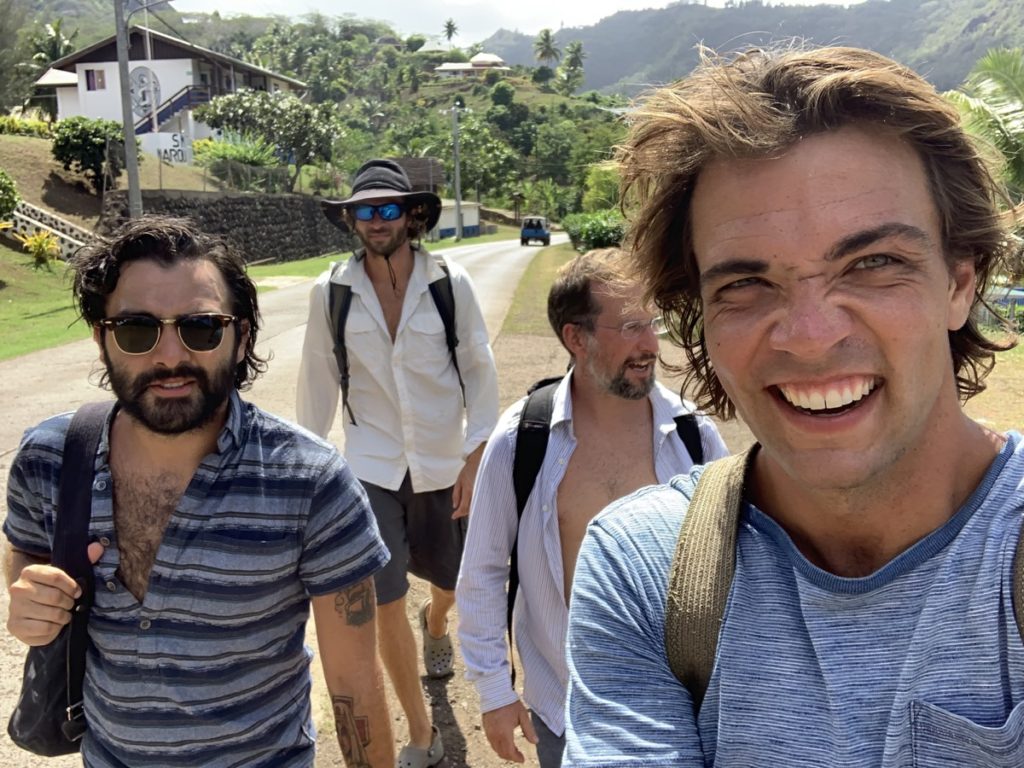 We decided for our next crossing, we would bring more:
Music
Snacks
Recipes
Carrots
Onions
Potatoes
Garlic
Flour
Fruit
Nutella
Coca Cola
Beer/Wine/Rum/Whisky/Tequila
We took two days to rest in the Marquesas and then pushed through the Tuamotus islands to Tahiti. These 2-3 day sails now felt like nothing after the 28 days at sea.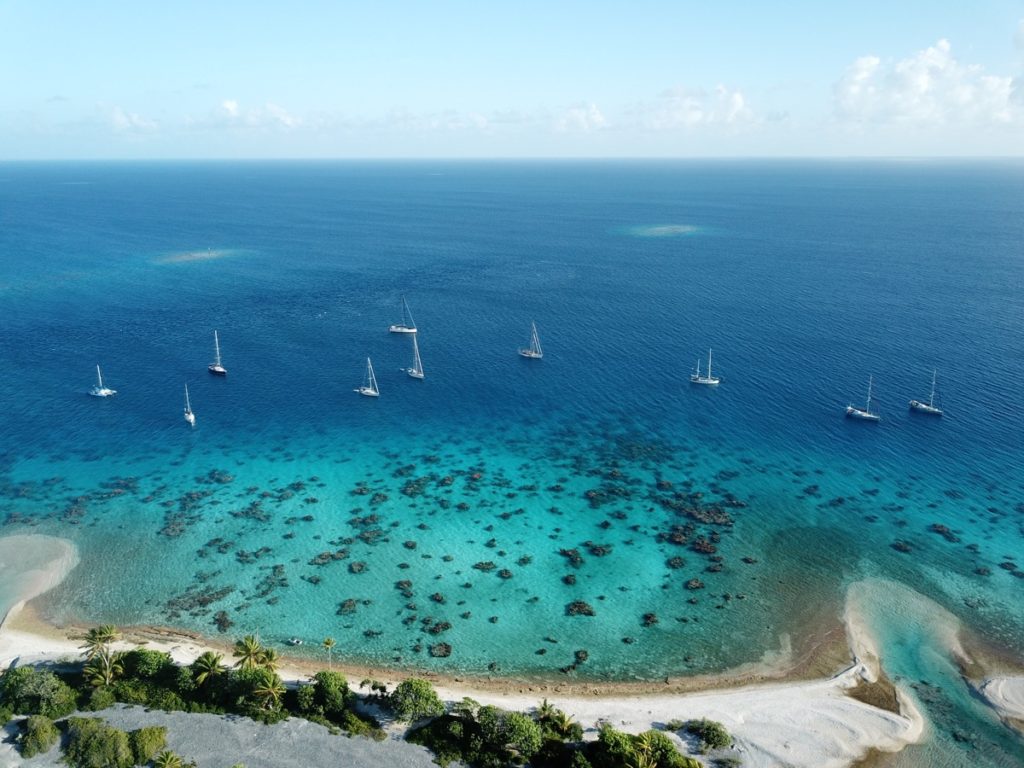 It was a sad day to when we bid farewell to two great crew members. Alex had served with distinction for over a month and Isaac was an original crew member to Speck's voyage -he had been with us since we left Boston six months ago. Every person we have aboard our boat has a way of leaving a lasting imprint of who they are into the very fabric that binds our journey together. Alex and Isaac are certainly no exception and have certainly set the bar for future crew to come.
At Isaac's farewell dinner in Tahiti, we were approached by a stranger inquiring if we were sailors and which way we might be headed. The crew and Juliet hit it off right away. She is now part of the Speck roster and will be with us until Australia where she will find a way back home to New Zealand. With no prior sailing knowledge, Juliet has already proven her worth many times over. From cooking and cleaning to hardcore boat repair, she is a great listener and a quick learner. Juliet seems like a natural born sailor.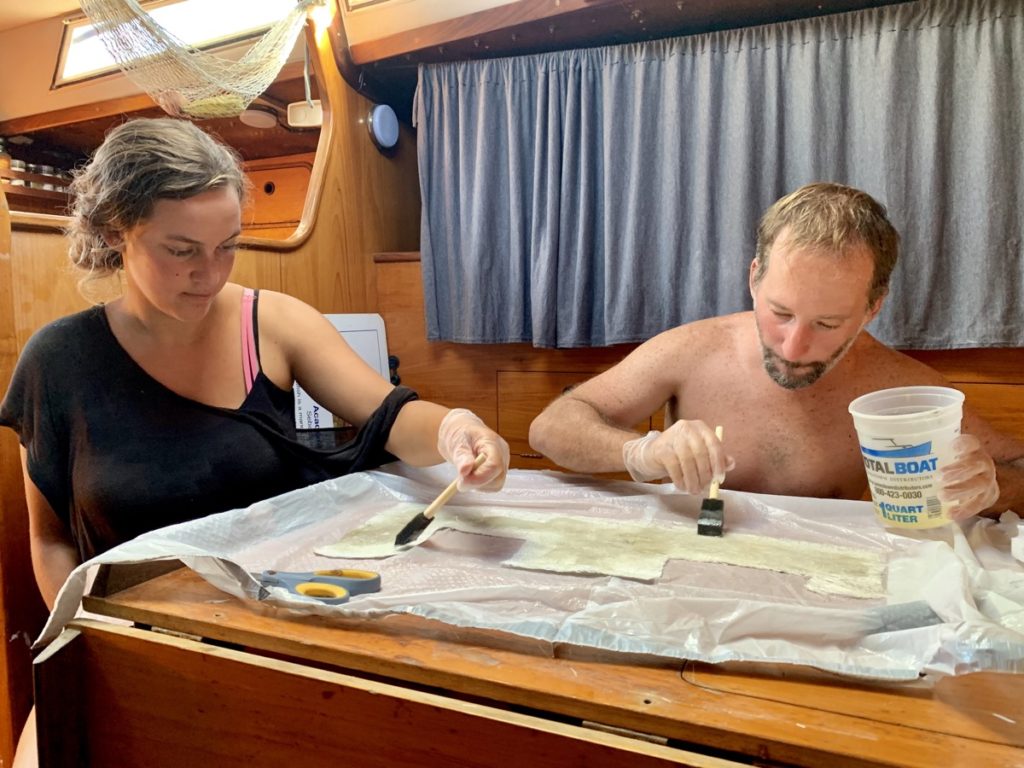 In Tahiti, we were joined by a Speck regular. Steph came aboard for her third visit (Bahamas, Panama, Tahiti) – a testament to the fine accommodations we have aboard our most sea worthy vessel and to her determination to adventure. With her newfound haircutting skills, we found the next adventure for Speck.
With Steph and Juliet onboard, we decided to do a weeklong adventure through the islands around Tahiti. We stayed for a night at each island, anchoring off Moorea, Raiatea, and Bora Bora. The crew made for land on Bora Bora to check out the famed "Bloody Mary's" restaurant where they met Jessica and Heath, fellow travelers exploring the islands. After Bora Bora, we headed back to Morea for one last snorkel afternoon and then continued back to Tahiti.
Tahiti has served as a welcoming respite from sailing while we repair and resupply. But the siren's call has never held its grasp on this crew and we prepare to slip away again. This time we set our sights on the Cook Islands on our way West toward Australia.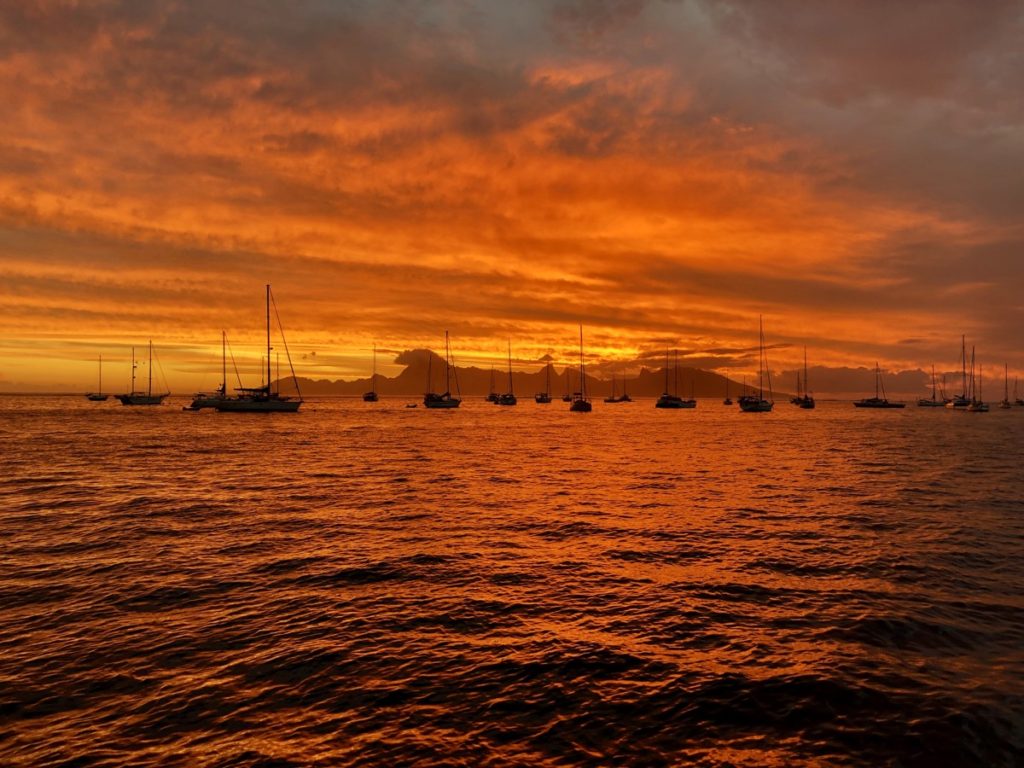 We are planning to depart Tuesday or Wednesday – June 4th or 5th for the Cook Islands (depending on when we can get to the customs office to receive our duty-free half price diesel/gasoline voucher).