Not waiting for weather and with our sights set on home, the crew of SV Speck pushes on from Port Ghalib, Egypt to Syracuse, Italy sailing through strong winds and one of the fiercest thunderstorms to date. Determined to make the Atlantic crossing and armed with our new route planning service, "FastSeas", we are making some of the best times we have seen yet.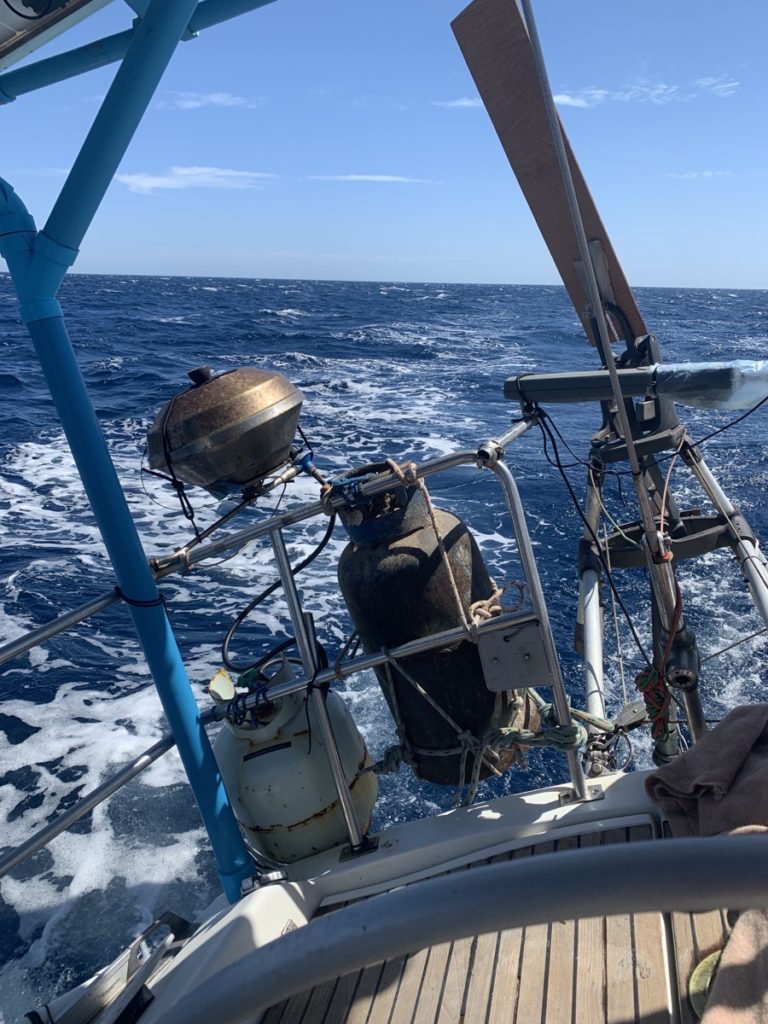 Just before we left Port Ghalib, we were able to purchase "new" large LPG bottle made possible by a donation from Isaac. It's wonderful to not have to worry about running low on cooking fuel for the next months – Thank you Isaac!
Despite warnings from other sailors of strong headwinds, we pushed through to the gulf of Suez as quickly as we could, fearing the canal may soon shut down to pleasure craft due to new Egyptian quarantine restrictions.
Foamy seas and desert mountains made for beautiful scenery while we faced off with a brutal northern wind that was threatening to put us behind schedule, or worse.
We paid the price for pushing through the weather so stubbornly with a number of mechanical failures including our forward navigation lights that snapped off the bow while crashing through the waves. Necessity breeds innovation. Not allowing broken nav lights to stifle our progress we used a Dremel to cut a green beer bottle for our starboard side light and used a red pencil sharpener housing stuffed inside a mason jar for the Portside. Marine grade adhesive was applied to keep them water tight so the LEDs inside would not get wet and corroded. Finally a piece of wood was custom cut to fit onto the bow in-between the lights to keep good color separation. We think they look pretty good.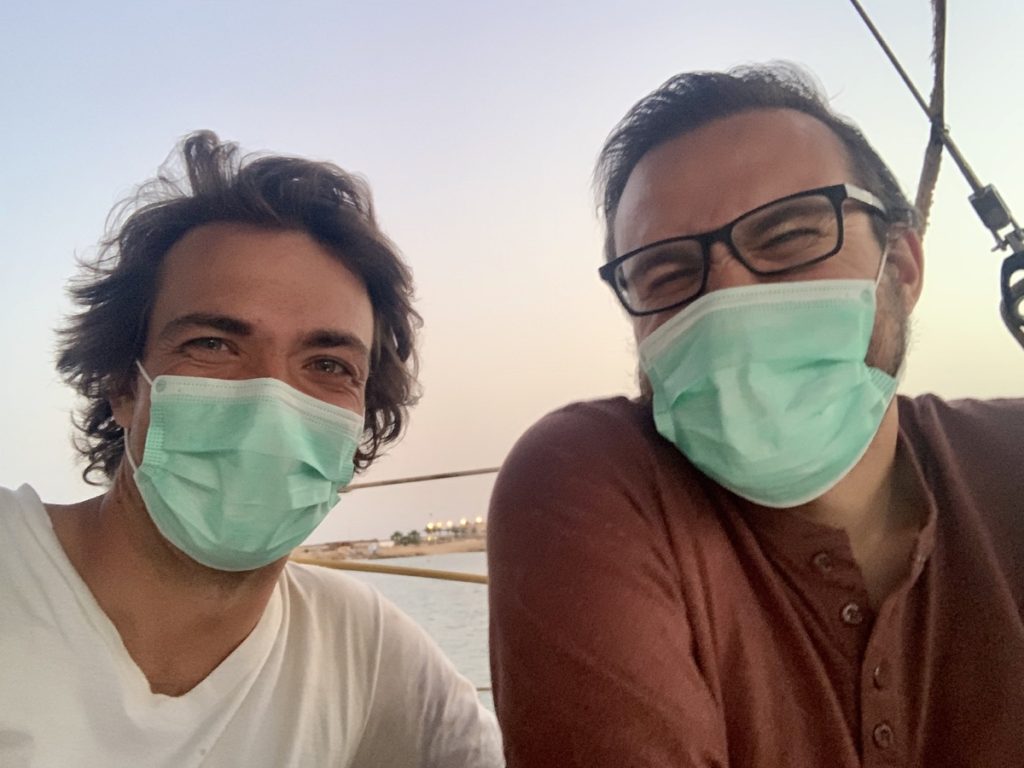 After pulling into Suez, we had to come into contact with a number of people in order to prepare for our trip through the canal. They were all taking precautions and even gave us some masks to ensure everyones' safety from COVID-19.
A donation from Byron's old coworkers Mark and Laurie came through just as we were debating if we wanted to spend $50 on unknown groceries from a kind old man named Said who approached in his rowboat -worth it! – fruits, veggies, meat.
In the relative calm in Suez harbor, we reluctantly took the plunge to give Speck a good bottom scrubbing and check our prop shaft zincs. The water was certainly not at the tropical temperatures that we had grown accustomed to and in fact it was downright cold. To our delight however, the bottom had very little growth and the zincs were still in good shape. We spent about 20 minutes scrubbing and hopped out refreshed.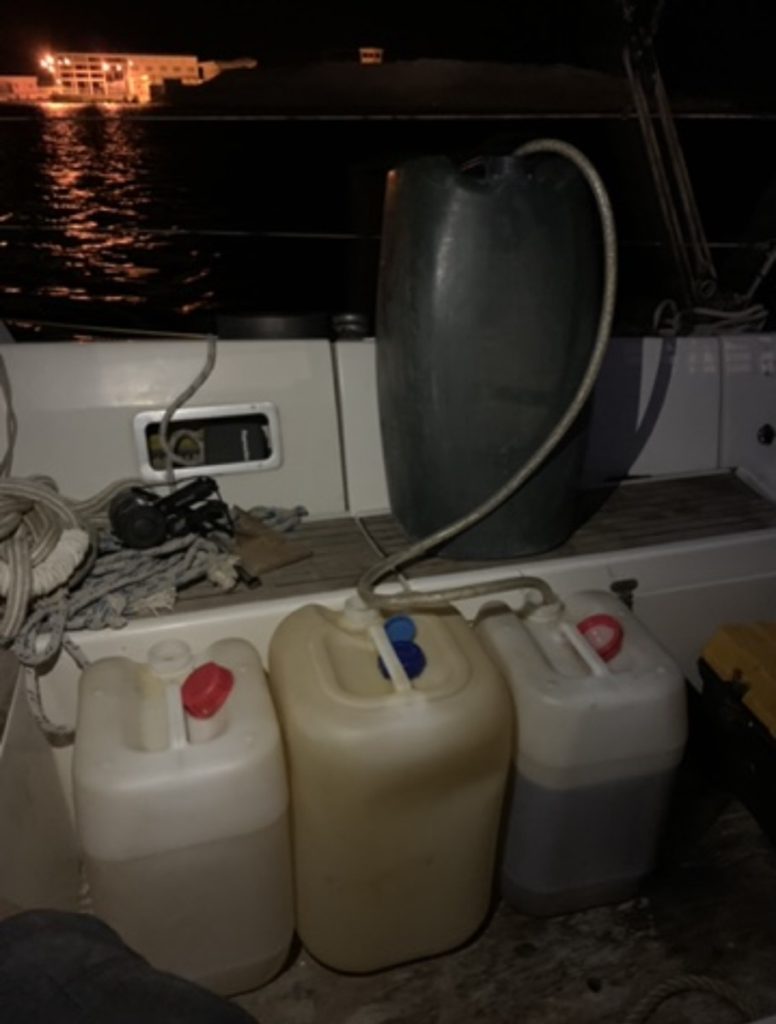 Byron has now become somewhat of a sommelier of diesel, having tasted some of the finest diesel from around the world while syphoning fuel into and out of our many jugs and into Speck's fuel tank.
Day one through the Suez Canal we saw many ships and received a really great historical tour from our first pilot, Muhammed.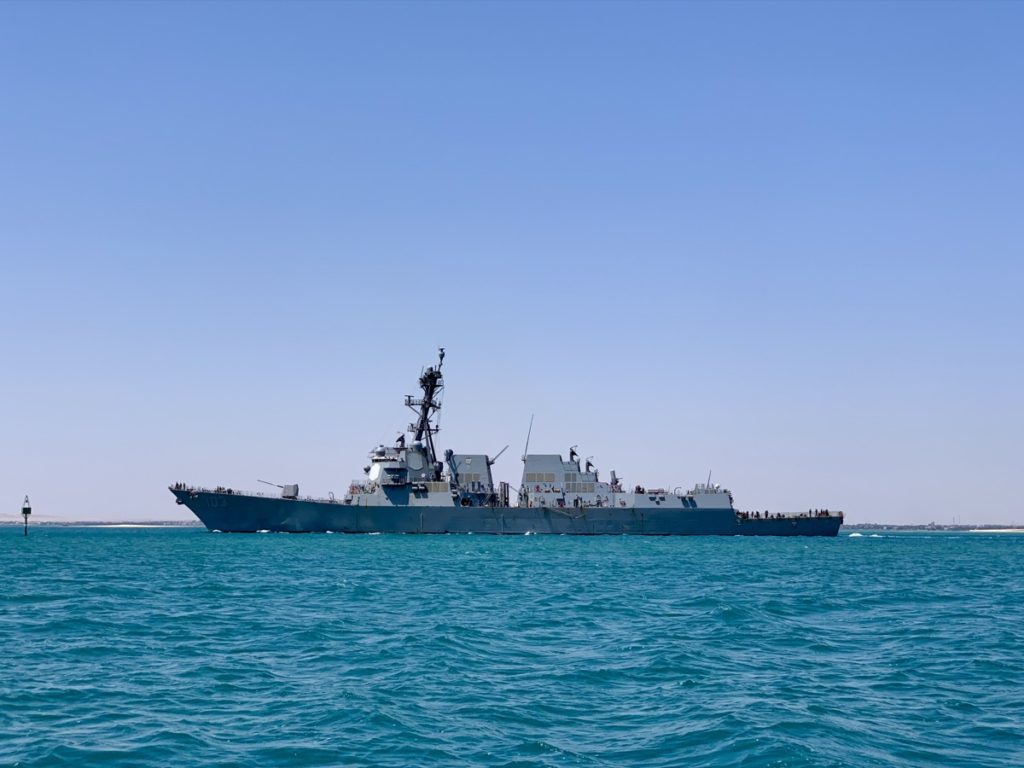 We almost were not allowed to go through the canal as a US destroyer was transiting the canal from the other direction. Apparently they typically don't allow pleasure craft and military craft to transit on the same day. As these are not typical times, they made an exception and allowed us to pass. In a strange way we think seeing a destroyer from our own country made us feel just a little closer to home for a brief moment.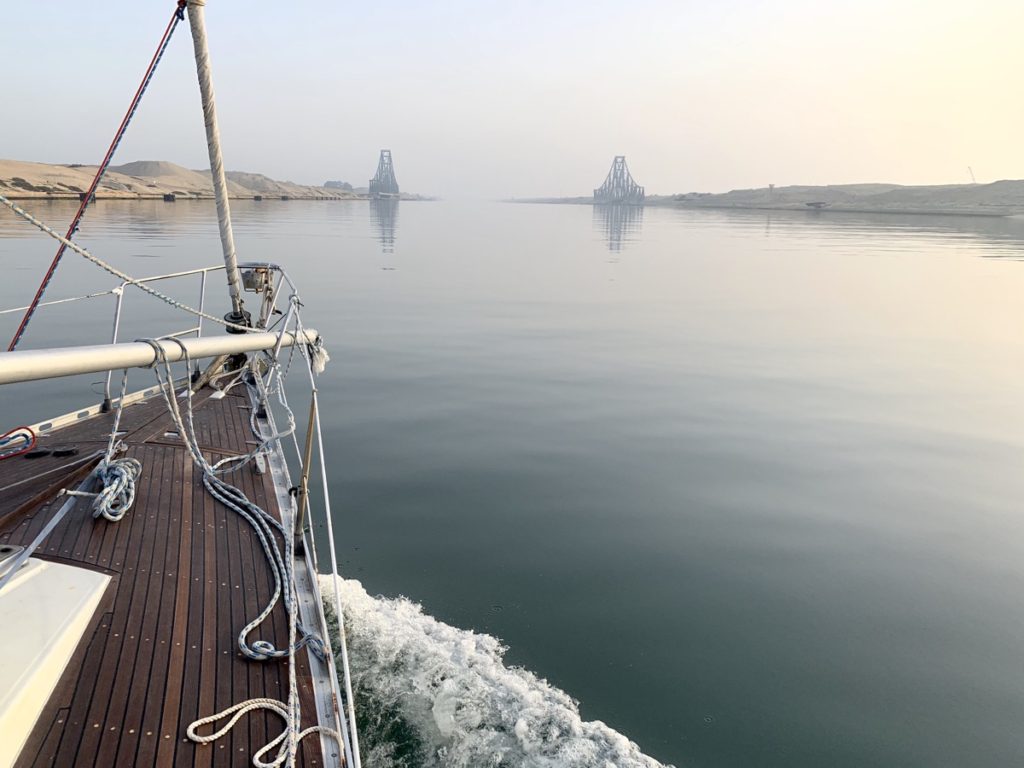 Day two of the canal transit was marked by cold yet peaceful weather as we glided through the placid canal waters. Fun fact about the canal: all of the bridges that cross it are either swing bridges or mobile prop driven platforms that interlock to span the width of the canal.
Our initial introduction the the Mediterranean was that of calm, delightful upwind sailing that quickly turned into a hellscape of gale force winds and violent lightning storms that lit up the night sky that turned night into day. During one of these battles with Mother Nature, Dan was catapulted off one of the sleeping berths and smashed his leg into Speck's keel-stepped mast. Nothing broken but left a nice bruise.
After hearing about a new weather routing service called FastSeas from our favorite boating podcast (The Boat Galley Podcast), we decided to try it out. One selling point for us is that it works beautifully with our Garmin Inreach messaging service. The way it works is we send a Garmin Inreach message to FastSeas like this:
SR: 37-12N, 15-19E
(Send us a Route to those coordinates)
FastSeas sends back an optimal sailing route for our boat with waypoints and wind data:
H2,37.52N,15.89E,3G7@316,247
H3,37.49N,15.80E,5G8@324,239
H5,37.44N,15.68E,6G8@325,245
H6,37.38N,15.56E,6G11@314,235
The first line shows that in 2 hours, we should be at coordinates 37.52N, 15.89E and experience winds at 3 knots gusting to 7 knots out of the North West (316 degrees), and that our boat heading should be 247 degrees. Knowing what wind to prepare for over the next few shifts and being able to so easily forecast the weather ahead of us has proven to be quite a game-changer.
Receiving these text waypoints is great, but it would be even better if we could transfer the waypoints into our Navionics charting app on our iPads. iOS shortcuts came to the rescue! With plenty of time onboard, we were able to write a little shortcut script that imports the FastSeas text, and exports a little GPX route for Navionics:

We're excited to share the shortcut with anyone interested once we get fast enough internet – likely in 1-2 months.. A special thank you goes out to Nica and Jeremy for their quick responses to our FastSeas questions.
We are still not sure why, but since entering the Mediterranean we have seen an inordinate amount of bird visitors. We think it might be some of the storms blowing these little birds out to sea. When they arrive on Speck, they are absolutely exhausted, barely able to stand they seem to give little concern to being around humans. Such to the point that Josh was able to hand feed and pet one. Josh, having the best hair on board became a favored perch for some birds. Regrettably, about half of the birds visiting us in this manner passed away within a day of arrival. We are trying to accommodate them for a lifesaving rest from the weather, providing fresh water and food in the cockpit. The problem we are having is we don't know what species we are dealing with or what they eat. We could sure use some advice from all of you bird enthusiasts.
Just as we think we have seen enough sunsets, there is always something unique about them in different parts of the world that inspires awe and a brief pause.
Our FastSeas routing brought us to the coast of Sicily just before our route was about to get hit with a northwest gale. We decided to try to see if we can refuel and bunker down in Syracuse. After radioing the harbor master and emailing some paperwork the friendly Italians of Syracuse let us in.
After refueling and paying a hefty sum for 200 liters of diesel, we met Nick who helped us with our lines. He did not work for the marina, just a kind soul who after hearing of our journey insisted on helping us get some fresh food and famous Italian wine. In less than 30 minutes, Nick came back with three bags that included fresh fruits and vegetables, artesian bread and three bottles of wine. He absolutely refused to let us pay for it and shared with us his dream to solo sail across the Atlantic to Boston. Well Nick, a big cheers to you and your kindness. May your dreams find you on our shores someday where it will surely be our honor to treat you to a home cooked meal paired with our finest vintage from Napa Valley.
We now lay on anchor in Syracuse waiting for the storm to pass after which we will continue through the second half of the Mediterranean on to Gibraltar. If we can make this next leg in less than 12 days, we stand a chance at an early Atlantic crossing and be home mid June.